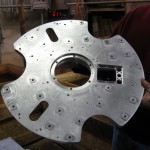 Since 1976, the Western Industrial Machining company has provided Industry and Government alike with a single, competent and highly skilled professional source of metal parts and assemblies.  Now approaching its' 4th decade of continuous service, Western Industrial has achieved recognition from Industry and Government for its exceptional ability to fabricate and deliver metal parts and components of unequaled quality, precision and complexity.
Utilizing a judicious blend of hand craftsmanship and experience with the latest state of the art computerized mill and machining equipment, Western Industrial can efficiently and cost effectively provide formed and fabricated metal componentry to meet virtually any criteria.  Big, small, complex or simple, Western Industrial does it all, including welding, chemical conversion and wet coat painting.  We are ISO Certified, 9001: 2015.
We sincerely appreciate your interest and look forward to the opportunity to service you and your requirements.  Please contact us if you have any questions.